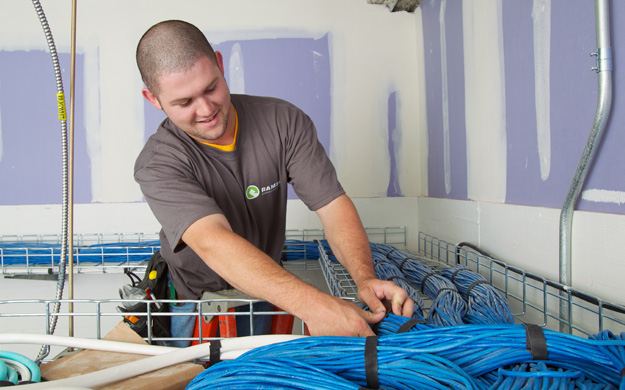 Toronto Cable Management Services
In any industrial or commercial building, cable management is vital for ensuring secure and tidily data, electrical, and other cables. It is quite necessary in fields such as IT, local area network, communications, facility wiring, and power distribution among others. In our cable service company, we focus on supporting cables while being routed through buildings from one point to another, and making subsequent management of cables throughout the lifetime of installation. Cable management is always vital in offices, especially in open office spaces, where different cables can complicate workers. For instance, an office space with data, power, and voice cables need well managed cables.
We serve customers in the entire Toronto, by providing services such as network cabling, cable wiring, structured cabling, voice cabling, as well as, Fibre cabling. We offer network cabling services for internet, TV, entertainment systems, security, phone systems, and other equipments that require data signal. We also ensure voice cabling installation is appropriately done so that your business can keep call logs records, and monitor the most areas with many incoming calls. This helps to identify location with highest number of customers and take advantage over your competitors. For more information, you can give us a call and inquire about all services we offer. Our reliable customer care service will answer all your queries appropriately.
In addition, we offer emergency cabling services at any time, and any day of the week. Emergency cabling services can be a planned service when relocating, changing office location, or upgrading your office. Since we have been established in cabling service provision, we have partnered with specific renowned telecom organizations in Toronto. We have a diversified service provision catering for large, medium, and small businesses. In addition to cabling services, we offer security system installations, server room installation, communication room installation, and PBX maintenance among others. We are fully authorized and certified to offer cabling services within Toronto jurisdiction.
We have a team of experts and specialist technicians, who are certified to handle all cabling types of low voltage. The low voltage cabling installation types we handle include; Cat7, Cat6e, Cat6, Cat5, coax cabling, data network cabling, Fibre cabling, copper cabling, and unified communication installations. We have highly qualified engineers who consult clients' issues concerning their networking and IT installations. You can visit our website and check all our services, and get in touch with us if you are in need of high quality cabling services. It's our pleasure to hear from customers requesting for our cable management services. We offer high quality services at affordable prices, without unwelcoming surprise down the line.
We are thriving to be the leading cable management service providers in Toronto, through perfect implementation of communication network cabling and IT network infrastructure. We offer our clients with professional advice so that they can make sound decision when purchasing cables. It is our prior responsibility of ensuring our customers are fully satisfied with our cabling services. If you are looking for a cabling company in Toronto, we are the best for you. Feel comfortable to get in touch with us, and get free estimate. We also have experts whom we can send to any client's location to carry out estimation costs free of charge.