Data Cabling Services in Toronto
Toronto Wiring provides data cabling services in the greater area of Toronto and the surrounding cities.
We offer cabling services including Network Cabling, Structured Cabling, Cable Wiring, Voice Cabling and much more. In addition, we offer cabling services for businesses that want to upgrade their network infrastructure or when they are relocating to a new location.
We have a certified team of cable expert technicians that work with all low voltage cabling like Data Network Cabling, Copper Cabling, Phone Cabling, Coax Cabling, Fiber Cabling, Cat5e, Cat6e, Cat6. You can consult our computer engineers' team on your networking and IT issues.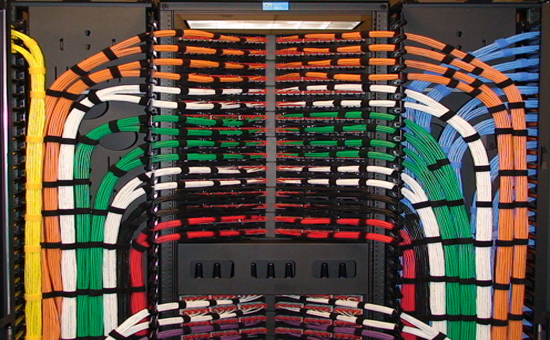 Our Data Cabling services are quite affordable and take into consideration the over-all ROI of a project.
As you are aware, data is an important mean of communication, and thus, an integral part of your organization. Therefore, it is vital to ensure that your data cabling has the correct network infrastructure and cabling structure in place. This support and optimizes services given the fact that your systems can wear out, your offer can get a remolding or even your business can expand. Our company focuses on cabling services in Toronto qualitatively through installing flexible and scalable data networks that support your business future expansion.
Additionally, we install data cabling infrastructure that last and allows high speed data to flow via your network gadgets reliably throughout the day, each day. Our experiences in different kinds of offices as well as domestic homes have opened our eyes on how to deliver quality cabling solutions.
Toronto Wiring offers cabling installation services to all organizations of all types and sizes in the GTA area. We follow the industry protocols from our initial survey, to the design, to installation all the way to project management, thus providing a study and efficient cabling environment that last for decades. We offer a complete design as well as implementation incorporating wireless and wire connectivity, in addition to Cat5e and Cat6 cabling services. Even if it is upgrading your current network systems, consider it done within the shortest time possible.
Testing of data cabling connections
We test all your sockets and can give you a report on each point so that you can be assured that they are broadcasting data at minimum one gigabit speed at each port, thus ensuring that every computer is trafficking data at its peak. Though the use of quality tools, we give the best results.
Our clients will tell you that we are the best in data communication because we offer network cabling installations services of the highest quality at an affordable price all over Toronto. Our success comes from the emphasis we put when installing cables as we do it according to our clients needs and take our time when formulating a plan so that we do not leave anything out.
It doesn't matter whether you are relocating to a new office, or upgrading your data cable, you need to hire the right data cabling installation services company.